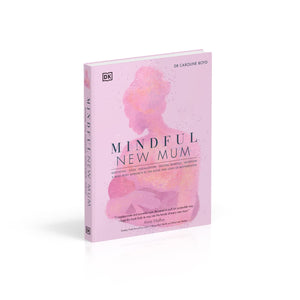 Mindful New Mum: A Mind-Body Approach to the Highs and Lows of Motherhood
Regular price
Sale price
€19.99
Tax included.
Shipping
calculated at checkout.
---
Feel empowered to become the mother you want to be.
From birth to your baby's first steps, this soothing book will support you to open your heart to the highs and lows of mothering and adjust to your new role. It offers everyday meditations and visualisations, postnatal yoga, natural remedies, and nutritional advice to help you care for yourself with the same love and commitment you give your precious baby.
As a new mum, you may secretly wonder: "Am I up to the job?" With pressure on mums to parent perfectly and "bounce back" effortlessly and unsupported, all amid sleep deprivation, and brain, body, and relationship changes, it's no surprise women struggle. You are not alone.
Compassionate, evidence-based psychological ideas from clinical psychologist and mum, Dr Caroline Boyd, will ground you amid the storms, enhancing everyday connections to you, your baby, and the world around you both.
"Compassionate and powerful tools are delivered in such an accessible way. I hope this book finds its way into the hands of every new mum." - Anna Mathur, Sunday Times bestselling author of Know Your Worth and Mind over Mother.
This holistic book will help you understand:
- Significant brain, body, and identity shifts during this transformation known as "matrescence".
- The intense, emotional rollercoaster of this first year - explaining what can shape your ideas of the "good" mum, and why experiencing feelings such as anger and anxiety doesn't make you a "bad" mother.
- Why it's important to learn to self-soothe, with practical psychological strategies to help you nurture yourself, as well as soothe your baby.
- Why couple dynamics shift with the arrival of a baby, and ways to stay connected.
- How to use your values to guide your decision-making, making choices that fit for your family.